What is Amino22:XL? | What is YTE®? | Amino Acids | Natural Extracts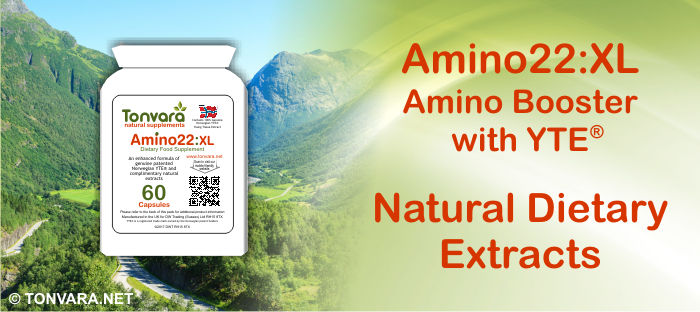 As well as the extremely effective YTE® contained in Amino22:XL, we have also added a carefully selected small number of pure natural dietary extracts designed to compliment and enhance the positive effects of YTE®. The natural extracts and their ratios have been carefully chosen following consultation with the Norwegian manufacturers of YTE® and are in line with the results of their own extensive in-house research.
New Formulation
Amino22:XL is a new formulation that upgrades our original and very successful Amino22. The two major changes are that we have removed Gingko Biloba from the formula and added extra YTE®.
Why have we removed the Gingko Biloba?
Gingko Biloba is believed to have much the same primary functions as YTE® but has some concerns for a number of people on prescribed medications, so to address those concerns, we decided to remove Gingko Biloba from our reformulated Amino22:XL and instead, add more YTE®.
Gingko Biloba is thought to enhance brain functions and as this is also considered to be an attribute of YTE®, by increasing the amount of YTE® in Amino22:XL, we believe we have more than compensated for the omission of Gingko Biloba. Our revised Amino22:XL will therefore provide enhanced benefits to existing users and will be welcomed by many new users who felt unable to benefit from our previous formula. Furthermore, Amino22:XL remains at the same retail price as our original Amino22, so it represents even better value than most alternative amino boosters such as Laminine.
L-Arginine
This is one of the important amino acids already contained in YTE®. An additional amount has been added to Amino22:XL to further enhance improvements in libido and increases in overall sexual vitality. It is also believed to aid the bioavailability and therefore increase the effectiveness of YTE®.
Inulin
This is a soluble dietary fibre derived from the Chicory plant. Unlike most carbohydrates, Inulin is non-digestible which allows it to pass through the small intestine and ferment in the large intestine. During this beneficial fermentation process, the Inulin transforms into healthy and necessary intestinal micro flora (bifidobacterium - sometimes referred to as "friendly bacteria") which can help with body waste elimination processes and is added to Amino22:XL to further enhance the positive metabolic effects of YTE®.
Octacosanol
The positive effects and bioavailability of the amino acids in YTE® are even further enhanced by the addition of Octocosanol, which is primarily extracted from rice bran. As it can also help increase strength and endurance by enhancing oxygen uptake, it may be of particular additional benefit to bodybuilders, athletes or for anyone wishing to remain physically active.
Improved Quality Of Life
Amino22:XL is a potent and effective dietary food supplement that contains key amino acids, vitamins, minerals and proteins that your body needs to function normally.
If your body has a lack of any of those vital compounds then Amino22:XL can help improve your overall quality of life.
It's Different. It's Better. It Excels!
Tonvara Amino22:XL Potent Amino Booster

What is Amino22:XL? | What is YTE®? | Amino Acids | Natural Extracts